Today's blog post is going to be a bit unconventional for me! 4 years ago I emailed a man I had never met and started sharing premature baby advice with him. Out of that first email that I so vividly remembering if I should even send, developed some darn amazing things. Friendships that have been by my side through good and bad times and of course
The Liz Logelin Foundation
, but that had nothing to do with my initial email!
Today marks the paperback release of the New York Times Bestselling book, Two Kisses for Maddy.
the most special thing about this paperback release is that it contains a new chapter. It also has a new cover, new photos, and a reading group guide. I can't wait to get my copy!
So for today's review I bring you my thoughts on Two Kisses for Maddy and encourage you to jump on Twitter at 1:00est and join in a twitter party for the release, here's what
Matt
had to say on his blog about it:
to celebrate the launch, i'll be participating in a live twitter chat starting at 1pm eastern time. grand central (my publisher) and i will be giving away a whole bunch of great stuff, including copies of my book, some of my favorite records, and other random things i think you may enjoy. all you have to do is participate! find me on twitter
and tweet me with the hashtag,
and you'll be in the running for a whole bunch of great stuff. oh. and you'll be able to ask me any questions you want about the book, the writing process or music recommendations.
Title: Two Kisses for Maddy-Paperback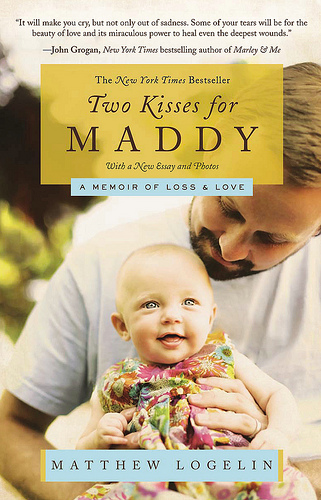 Matt and Liz Logelin were high school sweethearts. After years of long-distance dating, the pair finally settled together in Los Angeles, and they had it all: a perfect marriage, a gorgeous new home, and a baby girl on the way. Liz's pregnancy was rocky, but they welcomed Madeline, beautiful and healthy, into the world on March 24, 2008.
Just twenty-seven hours later, Liz suffered a pulmonary embolism and died instantly, without ever holding the daughter whose arrival she had so eagerly awaited. Though confronted with devastating grief and the responsibilities of a new and single father, Matt did not surrender to devastation; he chose to keep moving forward-- to make a life for Maddy.
In this memoir, Matt shares bittersweet and often humorous anecdotes of his courtship and marriage to Liz; of relying on his newborn daughter for the support that she unknowingly provided; and of the extraordinary online community of strangers who have become his friends. In honoring Liz's legacy, heartache has become solace.
I knew Matt's story before I dived into his book, so I am not sure what I was really expecting to find by reading this book, but I'll tell you what I did find was hope. Hope in people and the world that we live in. The book tells the back story of the courtship, engagement, marriage and love of Matt and Liz all the way up to the birth of their daughter Maddy. Then comes the part I can barely read. that pages that break my heart over and over again. Don't get me wrong this book isn't all sad, in fact I laughed so hard at times the tears in my eyes were from that!
Truly the story of Matt's life and the women he shares it with is a tale of over coming what life throws your way and moving forward from it.
I won't tell you I've read this book 3 times in a year, instead I'll just say that if your looking to really feel emotion, break open this book and let the tears, smiles and laughter all flow.